Your website made

simple.
Spend less time building your website, and more time building your business.
Plans start at $79/mo. Easy to use.
Custom design and unlimited edits included.
All the website. None of the hassle.
Whether you are a small business owner, a content creator, or a hobbyist, you have better things to do than fuss over your website. That's why we've made it simple!
Sign Up For Our Service
To make things easy, we have one simple, low monthly price. It comes with everything – you don't need to worry about paying more for hosting, SSL, etc. We take care of all of that for you! For additional savings, consider our annual plan!
Pick Your Template
Choose one of our professionally designed templates to create the overall layout of your website. Don't overthink it too much – our design team can customize the site to look exactly how you want.
Meet Your Guide
Every client is assigned a Guide who will collect some basic information from you – color preferences, some things about your business, etc. Then they'll work with your designer to build your site. And, if you ever need help in the future, your Guide will remain your point of contact.
We Build The Site of Your Dreams
Our design team gets to work on your site! They'll work with the information, logo, and photos you provided to your Guide. You'll be consulted along the way – you'll even be able to leave comments right on your site for your Guide!
Get Stuck? Get Help!
If there's a problem that you just can't seem to overcome, you can reach out to your Guide or to our support team for some help. Because you get unlimited edits, we're happy to take care of any content updates you might have. More free time!
Run Your Business!
Let us take care of your website – you have more important things to do. We handle all the updates, all the backups, all the maintenance. You can, of course, make changes to your site whenever you want – you're in control! You can also ask us to make edits – they're included in your subscription.
Unlimited content edits
As a Simply Built subscriber, you receive unlimited content edits for your site. We've made the process very simple – you can add comments and requests directly to your website dashboard and our design team will take care of it!
Content edits include making changes to site copy, editing fonts, changing colors, moving blocks, etc. It does not include redesigning or adding pages, search engine optimization, blog writing, or other additional services.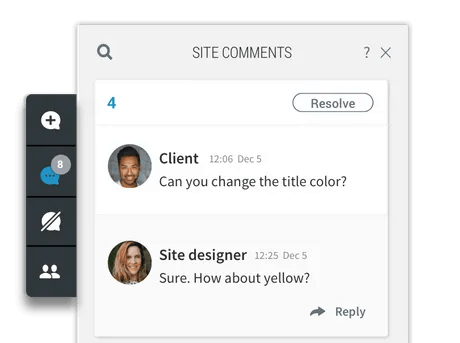 Designs for every industry
Our template library includes dozens of unique themes to get started. From there, you'll provide feedback and information to your Guide, who will customize your site just the way you want.
Drag and drop page builder
Even though your subscription includes unlimited content edits, some users prefer to make changes on their own. We've made that simple, too!
Use our built-in design editor to make your site exactly what you want. Drag and drop text, images, videos, audio files, and more right where you want them. Change fonts, edit colors. Find great photos in our stock photo library. Build amazing call to action sections that entice visitors to click.
Add as many pages as you'd like. Create blog posts to interact with your audience. Establish a mailing list. Connect to your social media for greater engagement.
Create your own online shop with our e-commerce tools.* Build a brand with loyal customers!
Be creative and enjoy the process to build your site – your way!
*Additional e-commerce subscription required.
Visitor personalization
Wouldn't it be great if your website could change itself based off of your visitors? Showing different content for things like time of day, visitor location, or the device type they're using? Well, it can, using our content personalization tools!
Create popups, banners, messages, menus, and much more that can be triggered in many ways – where the visitor is from, what search engine they're using, what day of the week it is – the possibilities are endless.
Engineered for SEO
To make sure your site is always right at the top of Google search results, our website builder gives you full control of your SEO, but applies many settings automatically and seamlessly in the background.
Simply Built is a web design company based in Illinois, the United States; started with a goal to provide top-notch web services at an affordable price. We have 10 years of experience in web design and development to a global clientele.
As we've grown, we've come to realize that most small business owners don't need or want an overly complicated website. They want something simple.
With Simply Built, you will get a beautiful, modern website that is easy to use and edit. You also get a Guide who will help you at every step and unlimited content edits, so you never have to worry about your site!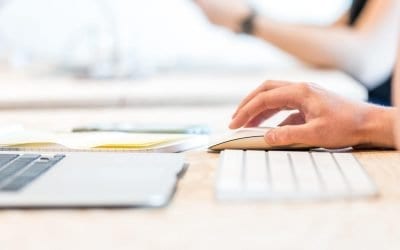 Seems impossible that we are already almost halfway through the year, but here we are. The mid-year point is a great time for business owners to take a step back and look at what could be improved, tweaked, or updated to give their business the best chance for success...
We are proud to work with: