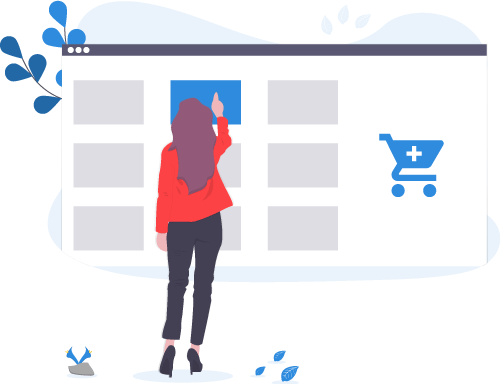 Our pricing model aims to make things as easy as possible for everyone. We have one low monthly price. We also offer an annual discount, if you would like to take advantage of that. Your subscription covers everything you need to have a beautiful website – access to our easy to use, drag and drop web builder, hosting, site security, and our awesome features like embedded Google Maps, forms, built in image editor and more! It also includes your own personal Guide – someone to help you navigate our system and learn as you go.
And if "do it yourself" doesn't appeal to you, no problem! Your subscription includes unlimited content edits. That's right, we take care of everything, so you don't have to.
You can select between monthly or yearly payment
What You Get
Every Simply Built website comes with all of these tools and features!
Create engaging websites by adding background images or videos, and enabling parallax effects.

Customize images and videos with color overlays. You can control both their color and opacity.

Make site-building even faster by copying and pasting elements inside your website.

Reduce development time with our easy-to-use and intuitive drag-and-drop editor.

Customize every element per device, for full control over how your site looks and functions on desktop, tablet and mobile.

Choose from various navigation styles for desktop, tablet and mobile.

Improve your brand recognition by adding a favicon that displays on the browser tab when a website is open.

Choose from more than 100 gorgeous font styles that can be used throughout your website.

Choose free images and GIFs from our extensive library, Unsplash, GIPHY, and more. Our powerful Image Picker makes adding them to your site quick and easy.

SSL certificates are included with every responsive website, and can be installed in just one click to improve your websites' SEO rankings.

Create a consistent website by defining site-wide settings for text, buttons, images, and backgrounds. Save the colors so they are easy to reuse throughout the site.

All images are automatically optimized and resized, per device and according to their location on the page, for faster page speed.

Arrange multiple photos in a swipeable image slider and choose from fantastic layout options. Add titles, captions, buttons, links, and more.

Edit your site images from directly inside the editor with our rich, built-in photo editor. You can crop, resize, add overlays and more.

Create great-looking sites with trendy site headers that shrink while visitors scroll. Control the color of shrinking header text, buttons, icons and more.

Increase visitor engagement by displaying videos on your sites. Upload them directly to your site, or embed links to YouTube, Vimeo, etc.
Our websites are automatically optimized for Google PageSpeed upon publishing and republishing.

Load times are significantly reduced thanks to our global CDN (Content Delivery Network), which hosts all static files (such as images, pdfs, and docs).

Increase site discoverability with Local Business Schema, which provides search engines with reliable, structured information about a site's business.

SSL certificates are included with every responsive website, and can be installed in just one click to improve your websites' SEO rankings.

A sitemap is automatically generated for each site, and informs search engines which pages they should crawl.

Z

Image Alt & Description Tags

Improve the ability of search engines to discover images on a website through tags.
Edit and republish any site directly from your mobile device. Upload photos you've taken on your device, update phone numbers, change links and more.

Z

Upload Photos from Your Device

What could be handier than updating photo galleries and image sliders with photos you've just snapped on your phone? You can also add, sort and edit images from the library.

Z

Mobile-Friendly Dashboard

When you log in from your mobile device, you'll go directly to a new, mobile-friendly dashboard that displays all of your sites and lets you search, preview and edit them.
Add popups that promote sales, encourage email signups, or personalize the site for specific visitors.

Make it easy for visitors to get in touch with an easy-to-edit Contact Form. It has an opt-in consent field, multiple layout and style options, and can be integrated with MailChimp, Constant Contact, and Google Sheets.

Let website visitors know when a brick-and-mortar store is open and when it's not. Save time by importing and then editing business hours from an online source.

Enable site visitors to call a business with a single click from a mobile device.

Drag and drop coupons onto a site and control the discount, duration, etc.

Add customizable dividers to your sites. Choose from a variety of layouts and designs.

Enable website visitors to download PDFs, spreadsheets and more by clicking a button.

Choose from a library of more than 1000 icons, or upload your own SVG, and customize to suit your site's look and feel.

Powered by Mapbox, choose from several sleek layouts, and make it easier for site visitors to find brick-and-mortar locations.

Make it easy for site visitors to share the website on social media networks including Facebook, Twitter, LinkedIn and more.

Make it simple for site visitors to share your site with their followers. Choose which icons to display and customize as you like.

Add this video conferencing service to your sites and give clients an easy, quick, and effective way to engage with site visitors.
Your Own Guide
As a Simply Built client, you are assigned a Guide who will help you with your Simply Built website. They can answer questions about our platform, send you quick video clips on how to do things, assist you with account issues and more! You're never on your own at Simply Built!
Unlimited Content Edits
Things change, we get that. That's why we include unlimited content edits with your subscription. If you need edits made to your site, you can simply make notes on your dashboard and the design team will take care of it. This includes things like updating phone numbers and addresses, making small copy edits, swapping photos, or moving content modules around. If you need work that is not covered under our Unlimited Content Edits, your Guide will let you know in advance what those costs will be.
Other Services We Provide
Your Simply Built subscription includes a single home page designed by our design team. If you would like additional pages, you can of course use our easy drag and drop builder. Or if you prefer, you can hire our design team to add those pages (Contact, FAQ, Services, etc). To add pages, please contact your Guide.